1/4 of newly hired employees tend to leave the organisation within six months. From rank & file to C-suite, a first day of work matters as it always makes a lasting first impression. A successful on-boarding programme will have positive effects on engagement, retention and performance.
Improving the onboarding experience is an ongoing process and our '90-Day Onboarding Guide' aims to provide guidance to organisations looking to streamline their current process.
Preview of our Onboarding Guide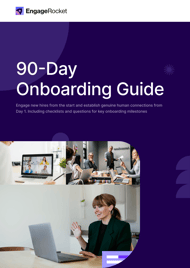 ✔️ Day 0: Pre-boarding Phase
Before new hires come on board, HR and hiring managers should come together to review the standard onboarding plan and share it with the new hires so they know what to expect on the first day.
✔️ Day 1: Employee's First Day
On this day, we want to leave a positive first impression on the new hire. We need to create gestures that set the tone for positive work connections and culture. (E.g. Organisation wide greeting)
✔️ Day 1 to 14: Orientation Phase
During this phase, new hires need to be provided with information about the role (clarification), the people (connect) and the organisation (compliance & culture).
✔️ Day 14 to 30: Familiarisation Phase
After acquiring information about the role, people and organisation, new hires need to consolidate the information, synthesise it, and be able to apply it in context.
✔️ Day 30 to 60: Contribution Phase
Once new hires start contributing to small projects and tasks, managers play a critical role to be accountable for new hires' progress by coaching, tracking and monitoring their work.
✔️ Day 60 to 90: Perform Phase
Any gaps found in the previous phases need to be addressed at this stage. Once new hires' optimal performance level is identified, managers can work on their goals and development plans for the longer term.
Keen to learn more? Click here to download your complimentary guide today!