While working in your own home affords you comfort, flexibility and creativity that offices can't replicate, some remote workers also find themselves working longer hours, with an inability to introduce healthy boundaries.
As productive as these remote workers may be working from home, the long hours can also lead to a higher chance of burnout. Working remotely means that you are in charge of your own breaks and sprints - but without following guidelines to ensure that you are dividing your attention with self-care.
To ensure we design a rhythm that works for us, here are some tips to help you get started on taking care of yourself, without any dent in your productivity.
1. Dress up, even if you are at home.
With a remote working arrangement, it is easy to roll out of bed at 8.55 am for a 9 am workday and remain in our pyjamas the entire day. Make an attempt to dress up as per how you would if you are going to the office. Dressing up prepares your state of mind for work and allows for some normalcy in your life. When we look better, we also feel better about ourselves.
2. Design yourself a workday, and stick to it.
Within your own abode - no one is going to set a routine for you. Without a routine, you may easily fall trap to working all the time, and ignoring other responsibilities or procrastinating the start of your workday as you play catch-up with work you've missed the rest of the day.

Design a work schedule that works for you including a fixed time to start your work as well as making an effort to take breaks during the day. Without the usual social cues in the office to take a break, such as your colleagues stopping by or another team headed for lunch - it's easy to be enveloped in your daily to-dos. One easy hack is to set regular meeting invites for yourself on your calendar as a reminder to take breaks, even for just 5mins, throughout the day.
3. Create a distraction-free environment for yourself at home
Talk to your family members about giving your work priority and not infringing on time that you request to not be disturbed. Get creative - change that walk-in closet into a private phone booth. By styling your environment to match your needs, you are setting yourself up for success. Scented candles and music can also set a relaxing atmosphere for you to concentrate on your work.
4. Schedule your most dreaded tasks for when you are most productive.
Introduce flexibility to your work hours and schedule your most dreaded tasks when you are most productive. If you are an early bird, schedule your most dreaded task first thing in the morning. If you're a night owl, now's the time to make use of your remote schedule for your benefit and schedule some work hours at night (but don't forget to communicate this to your team members).
5. Don't neglect your physical health
With gyms and fitness centres being closed, it may be hard to keep to our usual exercise routines. However, this does not give us an excuse to neglect our physical health. We can stand up and stretch for 2 minutes every hour (schedule a timer if it helps) or take advantage of the various free exercise videos available online. Don't forget to drink plenty of water and have a bottle or glass near you as you work and pay attention to your diet. Our diets are not limited to the food we eat but include everything we consume with our eyes, minds and ears.
Related Articles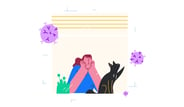 Activities to Kill Boredom During The Coronavirus Pandemic
For some, not being able to go outdoors is a big challenge to their mental state. In this article, EngageRocket shares several ways to beat boredom, both for your kids and for you, very bored adults.

10 Secrets To Surviving And Excelling Remote Working
Here are some secrets revealed from our own EngageRocket employees and our customers on lessons they've learned to better collaborate with their teams, as well as manage the feelings of isolation, burnout and anxiety that can emerge.