Employee engagement continues to be disappointingly low, according to 2019 research.
Forbes reported that just 21% of employees say they are "very engaged," which is a cause of concern in today's hiring environment. In mature economies, the labor market is very tight, making it hard to hire top talent. For example, last year, US unemployment rates fell to a 50-year low of 3.5%. On top of this, if employees are regularly disengaged and lacking motivation, they will inevitably start looking for greener pastures.
That's why companies turn to employee engagement software to monitor workforce sentiment, keep an eye on their essential HR KPIs, and convert the unstructured responses from employees into actionable data. Globally, the employee engagement software market is likely to grow from $142 million in 2018 to a staggering $346 million by 2025.
A big part of this demand comprises subscription-based solutions (Software as a Service or SaaS) deployed on the cloud. Companies simply "buy" the software, ask the vendor for necessary configurations, and implement it with minimal internal effort. But is this the right way forward for your company? What are the pros and cons of the build vs. buy debate, to consider before deploying employee engagement software?
Let's delve deeper.
What is the Build vs. Buy Debate in Employee Engagement All About?
This is a major bone of contention for any tech-driven vertical. Companies have the option of building business software from scratch, using internal expertise, open-source tools, and freely available APIs. They could also choose an out-of-the-box software that's ready to be deployed from day one. Each approach has its pros and cons.
For instance, if you're building employee engagement software, your capex would be slightly lower. It can be hosted on internal servers, built with resources already there within the organization, and requires very little upfront investments. Another advantage of this route is it gives you incredible flexibility to add on different capabilities, modify the UI, and create a custom application for your needs.
On the flip side, this requires a high degree of technical expertise. Beyond software design and development, you need SMEs familiar with employee engagement and its best practices, as well as compliance professionals who can navigate the intricacies of collecting and utilizing employee data.
This is precisely why the demand for employee engagement SaaS is on the rise.
The Case for Buying Employee Engagement Software
Now let's look at the buy-side of the build vs. buy debate. In this scenario, a specialized provider analyzes market needs to build software and distribute it across companies. This is made even simpler through the cloud, as it allows deployment on any platform or device. From Google's G-suite for business to Microsoft's Office 365, some of the world's most popular business software follows the "buy as SaaS" model.
So what are the implications for employee engagement software, specifically? In our experience, going down the SaaS route has several advantages for companies:
It lets you keep up with an evolving regulatory landscape
Employee engagement software collects large amounts of data in the form of surveys, feedback, comments, ratings, etc. This data is subject to laws like the PDPC or the GDPR that regulate privacy and utilization policies.
By opting for buy instead of build, you transfer the ownership of compliance to the software vendor, confident that every release will come updated with the latest data privacy norms.
You can gain from advanced analytics and domain expertise
Employee engagement software is heavily reliant on advanced analytics models. From basic functions like converting survey responses into an engagement score, to more sophisticated capabilities like parsing open responses to identify sentiment, analytics is at the heart of most engagement tools.
It can be difficult to obtain this level of expertise within your organization, especially for businesses outside the technology market. Further, analytics expertise must be linked to employee engagement KPIs. For example, at EngageRocket, we are able to generate more actionable insight from the employee data through artificial intelligence, machine learning and natural language processing.
But this is the result of years of analytics experience, successes, and failures that may be outside the ambit of most companies.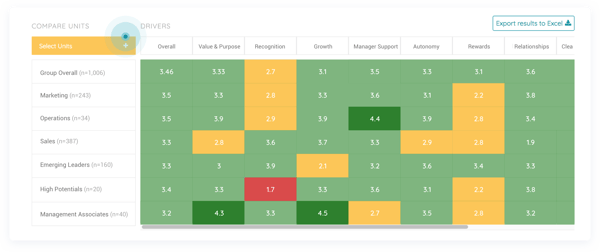 Employees are comfortable sharing data with a third-party provider
This benefit cannot be achieved if one selects to build instead of buy. Third-party employee engagement software collects information, anonymizes data, aggregates results, and shares the final results with the company. Employees are aware that there will be third-party intervention before the data reaches their employers.
In our experience, this increases trust and confidence, making it more likely for employees to share an honest response. There's no concern that named data will reach their immediate manager or any other company stakeholder, risking an impact on their jobs.
Parting Thoughts: Where do You Stand on the Build vs. Buy Conundrum?
Expectedly, each route has its a telling USP. But for employee engagement software, most companies lean towards the buy alternative. Apart from the domain-specific benefits we mentioned, maintaining software integrations as your company scales is a problem area.
The intervention of an experienced vendor could be helpful – in a recent survey on build vs. buy, the lack of technical capacity emerged as the no.1 challenge to internal software development. The survey also found that custom software projects can cost anywhere between $40,000 to $250,000 at the bare minimum. Employee engagement SaaS replaces all of this with a monthly subscription and all-inclusive pricing / servicing.
As engagement tools become a staple for companies of all sizes, the build vs. buy debate will become more heated. We recommend that you take stock of the available technical knowledge at your company, as well as your business goals, to decide the best way forward.
Contact us at hello@engagerocket.co if you aren't sure which route to take when deploying employee engagement software.