There's no doubt about it. More and more organisations are offering remote work as an option for their employees.
Buffer's 2020 survey considered a whopping 3500 workers worldwide, and came to the following conclusion:
98% of respondents said that they would like to work remotely at least for some time, for the rest of their career.

97% said that they would recommend remote working to others.

Nearly 1 out of 5 workers would like to work remotely more often.
And the demand for this model has intensified with the recent outbreak of coronavirus, impacting workers worldwide. Pandemics highlight the need to have a robust remote working infrastructure in place, in anticipation of future needs. HR leaders have been quick to react.
Gartner's snap poll found that 91% of HR leaders have implemented "work from home" arrangements since the outbreak. But they do report a lack of comfort with new ways of working.
As remote work becomes an imperative across industries – not just in tech, which could arguably be called the birthplace of remote working – employers must relook at their approach to engagement. Currently, millions of federal workers in the U.S. are waiting for clearance to work from home during the pandemic. Workers in sectors like retail, logistics, and transportation have been similarly affected.
So, how can companies effectively manage a large workforce when faced with an unprecedented remote working challenge? The key to success lies in effective engagement.
Weighing the Pros and Cons of Remote Work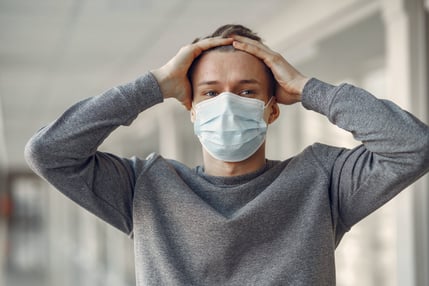 The advantage of working remotely during a crisis situation like the coronavirus is clear. Employees can choose to self-quarantine, keeping themselves, their families, and communities away from the risk of infection. Given the contagious nature of coronavirus, it is a pragmatic way to curb the outbreak before it gets any worse.
Apart from this, remote work often proves to be more productive than coming to an on-premise office. One study revealed that a remote worker is productive for 16.8 days more every year than an in-office employee. Other benefits, according to Buffer, is the flexibility of schedules (32%), not having to commute (21%), and the ability to spend more time with your loved ones (11%).
In other words, remote working helps employees prioritise their personals goals and aspirations without negatively impacting professional productivity. Right now, that means staying safe from the coronavirus pandemic while staying on your career trajectory.
However, there are downsides to remote working as well.
Initially, companies were apprehensive as the expected a loss of productivity, as managers wouldn't be able to monitor what their team members are doing. This has been debunked, as it appears productivity isn't really linked to one's physical presence in the office – or the culture of presenteeism, as it were.
Today, the biggest challenge faced by remote workers and remote working-friendly companies is employee engagement. Buffer revealed that "collaboration and communication" and "loneliness" were the top-two struggles faced by remote workers. And this has been an ongoing trend from last year. These workers also find it hard to stay motivated (7%), indicating a lapse in engagement and involvement with the work at hand.
Leveraging Collaboration for Employee Engagement at the Time of Coronavirus
Most companies have some sort of remote collaboration system in place, but it is usually intended for third-parties (customers, agencies, vendors, etc.). Internal employees rely on traditional tools like email to complete their tasks. Needless to say, these legacy digital channels are supplemented by face to face interactions and physical meetings.
To replicate this level of engagement and seamless collaboration during a large-scale remote work initiative, companies need next-gen digital tools. Here are our recommendations:
1. Slack (Free)
If your team isn't already on Slack, now is a great time to get onboarded. You can add any number of team members and access up to 10,000 most recent messages. While video conferencing isn't available on the free version, you can have 1:1 voice and video calls.

2. Open for Business Hub
This is an initiative launched by Cloudflare, Box, Cisco, Google, GoToMeeting, and Microsoft, bringing together a library of free remote working tools to help teams facing the coronavirus outbreak. For companies in traditional (i.e. non-remote work-friendly) sectors, it can help to quickly build up the requisite infrastructure. Open for Business Hub includes tools for security, video meetings, project management, chat, childcare, and more.

3. Zoho Remotely
Free until July 1, 2020, Remotely is designed as an end-to-end engagement and collaboration suite. There is chat, file sharing, online training, remote assistance, and productivity tools on the lines of G-Suite. Note that Zoho is also part of the open for Business Hub.

4. LogMeIn emergency remote work
This targets traditional sectors specifically. Healthcare providers, educational institutions, municipalities, and non-profit organizations can access free tools for virtual meetings, webinars, and remote support.

5. Good old G-Suite
G-Suite is a collaboration staple, and its easy-to-use nature is sure to prove popular when adopting remote work for the first time. It includes a calendar app, documents and spreadsheet management, chat, and video meetings, covering your most foundational needs.
All of these tools are available for free, making it easier to get started with enhancing employee engagement at the time of coronavirus.
Given that so many employees are working from home, companies need to take a proactive attitude and check in with the workforce frequently. We recommend a simple 4-point checklist, assigning each point a value between 1 and 5, as well as a simple Yes and No question. Finally, ask employees to answer an open-ended question to accurately understand the individual sentiment.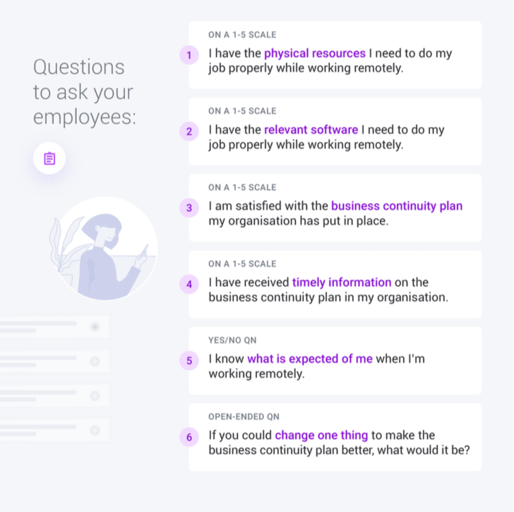 By monitoring these factors, it is possible to keep up employee engagement levels even when working remotely for prolonged periods of time. Some of your employees may even want to continue working remotely once the risk of the outbreak is over, impressed by the sheer convenience and effectiveness of your remote working infrastructure!
So, leverage this time to implement the right tools and strategies to alleviate employee risk/fears in the near term – and pave the way for sustainable remote working, tapping into what's proving to be an extremely working model around the world.
Stay safe, and to know more about solutions for employee engagement in the face of a crisis situation, email us at hello@engagerocket.co.