The show, as they say, must go on.

As COVID-19 throws a wrench in your recruitment works, it is likely that your company will defer the onboarding process – but for how long?

Specific sectors and industries will see an uptick in recruitment in the wake of coronavirus. A study by the job site, Adzuna, found that while an average of 40% of listings was redacted, thousands of supermarket jobs were posted on the site. Tesco announced that it was looking to hire 20,000 new workers; Amazon will hire another 100,000. In Singapore, DBS has committed to hiring over 2,000 people in 2020.

A curb on new hiring will cause unprecedented anxieties among 2020's graduates. 40% of students are worried that they "won't be able to get a job at all," reports the Guardian. As an employer, you can positively influence this scenario by continuing employee onboarding.

What this really means, is this – to ramp up your workforce for coronavirus-related demand and to alleviate concerns among prospective recruits, you'll need a strong (and highly digitalized) onboarding process.
Why Onboarding Matters: A Near and Long-term Perspective
In the near term, a clearly outlined and candidate-centric onboarding strategy will help to keep your business on track. It will also cut down time spent on redundant tasks, making it easier for your WFH HR personnel to balance their professional and personal obligations.

This is already the case for several organizations around the world, particularly those dealing with essential services.

In the US, for example, government agencies are turning to virtual platforms like Skype and FaceTime to swear in new employees. In its new onboarding strategy, in response to COVID-19, the US government is looking to keep it as simple as possible. The Department of Homeland security has relaxed policies for the physical inspection of forms and policies temporarily, minimizing in-person contact and the chances of delays.

Meanwhile in Singapore, the government has pushed out campaigns such as IMDA's Stay Healthy, Go Digital campaign and grants such as the Productivity Solutions Grant (PSG) to help businesses adopt digital solutions and technology to adapt to the new measures introduced as well as streamline business processes. Sector specific support as well as webinars and training resources have been subsidized for specific courses to further complement the measures to enhance productivity.

India's Adecco Group is also leveraging technology to continue recruitment. "By using web, video conferencing, and telecommunication applications like Skype and WhatsApp, we have been successful in maintaining an agile, modern, and cautious approach to recruiting, which is now an imperative," said the company's India Country Manager and MD to The Economic Times.

These are good examples of how you can adapt the onboarding process in a period of crisis. While it is usually recommended to make onboarding a prolonged, multi-layered experience, difficult times call for intelligent measures.

That apart, the onboarding experience is linked to employee success in the long term. It sets employees up for a seamless transition into your company, helping them to reach full productivity in a short time. But the current state of onboarding leaves a lot to be desired. 63% of HR departments see new recruits quit even before they start, signalling a worrying lapse in engagement during the onboarding process.

What's more, 40% of companies rely on offline onboarding channels and 33% on blended (offline + online) methods – which could prove debilitating to your organization's growth right now.



Best Practices for Onboarding Employees in Challenging Times
As reported by Hays Singapore, three in ten companies in Singapore conduct a formal onboarding process for their new hires following their offer, which shows that onboarding is still very much neglected by most companies.

Strengthening your onboarding capabilities is always a good idea.

It shows your recruits that you care, keeps them engaged across the first few days, weeks, and months, which are so critical to the overall employee lifecycle. And in the context of COVID-19, it can help you stay as close to BAU as possible, continuing to deliver value during these challenging times. Here's what we recommend:

Revisit your onboarding milestones
Typically, your onboarding journey will have milestones spread across one entire year. One of the secret ingredients for launching a successful employee onboarding process is to have Day-01, Day-30, Day-90, Day-180, and Day-365 milestones. But when you're grappling with an uncertain period, you need smaller milestones within these intervals. For example, your new recruit might be browsing job sites and freelancing platforms as they work from home. Check-in regularly – at least once a week – to ensure that they stay engaged with your company's value proposition.

Get micro-feedback from recruits
Micro-feedback involves the collecting of small pieces of information at key moments of truth. The recruit has completed their first task – did they find it vague/complex? The first round of work review is in – does it motivate or discourage the recruit? The first cycle of payroll is complete – is the recruit satisfied with the experience? You can collect these data through very short, non-intrusive questionnaires.

Go LEAN, remove all non-essentials
Just as the US government relaxed the physical inspection of forms, you can try to eliminate/push back any non-essential onboarding activity. Classroom training sessions can be replaced by online material; in-person events should be eliminated entirely. Your focus would be on highlighting the key drivers of recruit engagement and maximizing these areas. Instead of protocol and process checklists, employee centricity is what companies should prioritize.

Leave some margin for error
This is essential. There will be some unpreventable issues at the time of a global crisis, and it's best to plan for it. For example, a newly onboarded employee might have to quit for personal reasons. A WFH environment may not be as engaging as an on-premise community of workers. To address this, you can monitor engagement at regular intervals (e.g., weekly) as well as at those key moments of truth, consistent feedback will help uncover periods or trends where motivation or morale may dip and open the window for intervention. To weather this storm, you have to be agile and learn as you go.


Stay connected
Given the remote work arrangement, opportunities for interaction have decreased tremendously. This is coupled with the fact that people may face an increase in stress and anxiety relating to the uncertainty ahead. Besides checking in on the output of your new hires, check in on their well-being as well and whether they have the resources to cope with the situation. Many companies are finding innovative ways of bringing the team together during this period of social distancing. This point should not be neglected, social adjustment takes time and while it may be challenging to do so through video calls and text messages, you should give your new hire faces to look forward to when your office reopens by organising online activities to help them warm up to the company.

As said by Nancy Lee, Head of Human Resources in Asia Pacific of Schroders, "This is not just flexible working. It is about the deepening relationships with employees and putting trust in them at all times."

Looking for a comprehensive guide to provide a better onboarding experience for new joiners? Check out our 90-Day Onboarding Guide here


How EngageRocket Can Help
At EngageRocket, we are committed to offering data-driven answers to your new recruit engagement challenges. Designing smart questionnaires, collecting data in a non-intrusive format, and finding opportunities for improvement is the key to a crisis-ready onboarding process. This will help you stay resilient in the face of unexpected events and get your workforce to full productivity as early as possible. With the changes made to work arrangements during this challenging period, it can be difficult to integrate your new hire into the organisation. Hence, sending out onboarding surveys consistently and reviewing the feedback will not only help you detect early flight risk but give insight on how the onboarding process may be improved and what you can do to optimise their experience.

This pandemic will change the way we view work, even after social distancing measures have been lifted. The trajectory of work is likely to shift in favour of flexible hours and remote work as mentioned by Mark Zuckerberg. Use this opportunity to revamp how your company uses technology to manage your talents and collaborate with one another, adapt quickly and you will find yourself ahead of the curve when the time comes for work as we know it to evolve.



Related Articles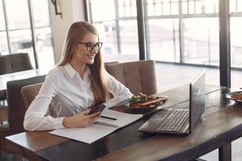 How to Effectively Onboard a Remote Employee
As the digital world unlocks new ways for people to stay productive online, and businesses see the benefits of having a remote team, a revolution is taking place. What are some tips that you can consider to onboard remote employees?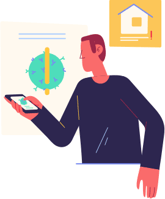 How To Set Clear Expectations For Employees Virtually
When remote employees know what is expected of them they are much more likely to deliver results.
Here are four areas to set clear expectations.