Remote working isn't just an idea for the future anymore.
The demand for mobile and at-home working opportunities is higher than ever. As the digital world unlocks new ways for people to stay productive online, and businesses see the benefits of having a remote team, a revolution is taking place.
Remote team members are less expensive than their in-office counterparts, with fewer overheads to worry about. Additionally, these employees are often more productive than their colleagues, too, as they have the freedom to choose their own schedules.
However, if you want to make sure that your remote employees are as engaged and productive as possible, you need the right strategy in place from day one. This means welcoming people into your team with a well-defined onboarding process.
Here are some tips to get you started.
Focus on Company Culture Immediately
One of the things that suffer in a remote working environment is often company culture.
Because employees don't spend a lot of time face-to-face or chatting around the water cooler, a relationship doesn't always develop. Research shows that many remote employees feel like imposters in the workforce, as they don't truly feel like part of the team.
It's crucial that your employees don't feel isolated or cut-off from the business just because they're not sitting in an office space. Instead, you need to work hard on ensuring that your employees get plenty of connections with the rest of their team.
For instance, you might decide to add all of your employees to a Slack channel where they can find information about the business and chat with their coworkers in real-time.
Another option might be to assign your employees a mentor that they can turn to for advice if they need help connecting to the rest of the group.
Remember to have plenty of video meetings where you can engage your remote employee and check how they're doing too!
Make Introductions
Another way to make your employee feel like part of the team is to ensure that they know all the other staff members that they're going to be working with.
Even if your remote worker is part of a group of mobile employees, they're unlikely to feel connected to the rest of your team members if they don't have a chance to speak to important people around them, like HR and IT experts.
In the initial stages of your onboarding process, make a list of all the people that are going to be valuable to your new hire's role. This could include supervisors, other team members, and even experts that they might need to turn to for extra help.
Create an informal meeting environment where all of these people can chat and get to know each other.
Ensure that your team members know that it's partially their responsibility to make each new hire feel accepted and welcomed. You want all of your employees to feel comfortable in your workforce, not just the ones that are going to be physically present in the office.
Create Clear Guidelines and Expectations
Your employees need to know exactly what you expect from them. Clearly communicate your expectations to new employees from day one before they start working on new projects. Your staff should have a clear picture of what their duties are.
Both you and the remote worker will need to be clear on team objectives, company values, and individual goals.
Remember, it's also worth letting your team members know what you're going to be evaluating them on in the weeks or months to come. This could mean setting specific goals that you want your employees to reach, or just having regular meetings to see how they're progressing.
Another important issue to cover when you're onboarding remote employees is how you're going to help them reach their goals.
Although your new staff member will already have a lot of crucial skills for their role, they might need additional training and support later on. Highlight what kind of learning opportunities they're going to have and grow with your business.
Ensure Employees are Properly Equipped
If your new remote team member has been working remotely before, they probably already have a lot of the equipment they need. If they're new to remote working, however, they're going to need some extra resources from you.
Both new and veteran remote workers will need to have access to all of your business documentation, information about company values, and training materials.
Ensure that your employees know how to use all of the programs and software that you want them to use. Additionally, make sure that they have the right internet connection and hardware to get online.
Since your employee might not have access to an IT team or expertise in his own home (or coworking space), it's worth giving them some extra advice on how to handle and fix common problems. For instance, you could provide a resource that shows your team how to handle common problems with their PCs.
It's also worth making sure that your employees know where to turn for help when they can't solve some situations on their own. Remote work comes with many benefits, but if they're new to remote work, they're bound to face some challenges too.
Regardless of whether it concerns your business processes, team communication, productivity and prioritization, or anything else that might affect the quality of their work, it's important that your employees know who they can address for assistance.
Learn and Improve
Finally, the more you work on your remote employee onboarding process, the more opportunities you'll have to learn and take your strategy to the next level. For each new process, you implement, review the impact that you're having on your candidates, and ask them for as much feedback as they can provide.
Let your remote staff members have a chance to settle into their new role for a few weeks, then give them a survey or set up a meeting where they can tell you what they like and dislike about the onboarding experience. This a chance for you to see behind the curtain and discover what really works for your team.
The more feedback you get, the more you can adjust your onboarding strategy, so you're wasting less time on processes that confuse your employees or lead to issues later on.
You might even discover some new tools and software that make it easier to track the progress of your remote team members and help them take further steps towards their goals.
Don't be afraid to adjust and upgrade your onboarding process frequently as your business evolves.
Mastering the Onboarding Process
Onboarding a new hire is a necessary process. However, it can be very challenging to welcome your staff members into your team in a way that's both productive and engaging.
Onboarding in-office hires is not always easy, but onboarding remote team members can be even harder. After all, you're not going to have as many face-to-face interactions with these candidates.
The good news is that as the digital world continues to evolve, more businesses are discovering reliable ways to welcome remote staff into their team. Using the tips and guidance above, you should have everything you need to start building stronger relationships with your team members.
The key to success is to make sure your employees know that just because they're out of the office, doesn't mean that they're not part of the team.
Related Articles

How To Set Clear Expectations For Employees Virtually
When remote employees know what is expected of them they are much more likely to deliver results.
Here are four areas to set clear expectations.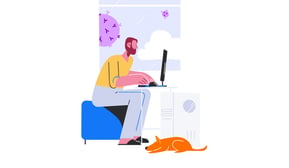 How To Keep Employees Productive While Working From Home
Working from home means more distractions, fewer ways to interact naturally with fellow employees,
and more social isolation. Here are a few ways you can keep your team productive while they are
working from home.