After months of rework, we're excited to unveil a new logo and a new look today.
As we're entering the 5th year into our journey as a company, we've looked back at the milestones we achieved and redefined our mission to better capture what we aspire to do: Create a world where people thrive and organizations succeed.
Our newly-crafted mission clearly resonated with the team. The communication of our mission should extend beyond ourselves and to our customers. We believe that design can get the ball rolling with a stronger and well-considered brand identity. *Cues actual ball bouncing and rolling below*

Powered by People & Empowering People
Our first logo was created with a simple idea of combining the imagery of a rocket and an angle bracket "<" to symbolise code. Although this logo worked for us throughout these years, the essence of people or the user in our logo was sorely missing and was top of mind in our redesign.

People are at the core of what we do. They drive us while we empower them. This is why the user is (literally) at the centre of our logo and forms the shape of the rocket (shaping the way we work).
Building trust and creating impact
We also took into consideration the shortcomings of our old logo in terms of distinctiveness in look, legibility and versatility. These serve as guiding principles in our redesign to ensure that our logo is memorable, instils a sense of trustworthiness and is future-forward – all of which also relates to defining the success of our business.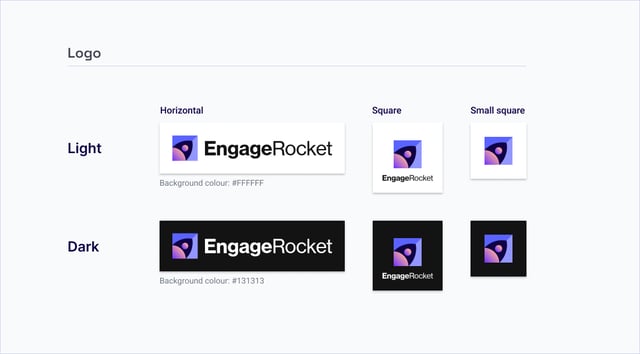 With our new EngageRocket colour palette, we hope to create the same sense of memorability, trustworthiness and future-forwardness by introducing vibrant and punchy colours, while retaining some of our old colours that are still distinctive of our personality.

Photography with real people takes centre stage with our new visual identity, with the aim of highlighting and celebrating humanity as our product evolves and our company continues to grow.

What's next?
Over the next few months, we'll be rolling out our new logo in our product modules and other places to align with our new visual identity. What you'll get is a more consistent experience that feels truly EngageRocket. We're excited to hear your feedback and constantly improve each time even in defining our visual direction. We hope you'll enjoy the ride.
Cheers,
The team at EngageRocket