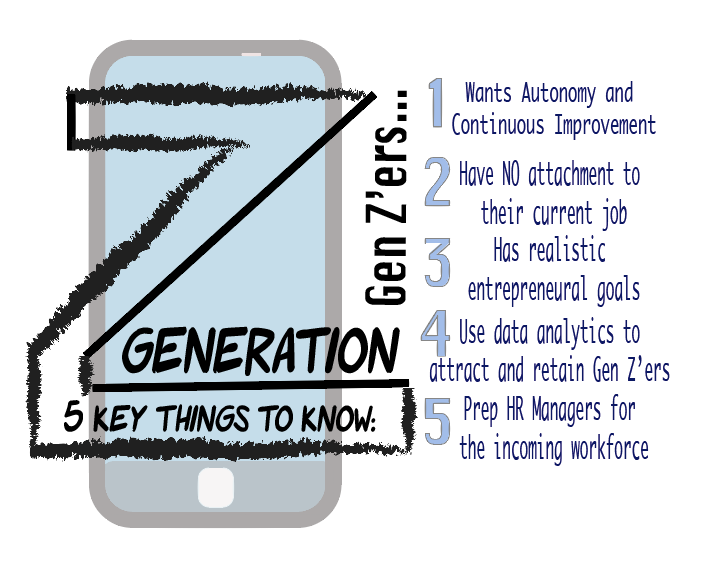 For HR Managers, the art of attracting Millennials - the generation born in the early 1980s to the mid 1990s - is certainly nothing new. By offering flexible working hours and incorporating technology into the workplace, firms have been able to satisfy these 'gig' employees for years now. However, what many firms have yet to prepare for is Generation Z - the generation born between the mid-1990s to the early 2000s.
Already, it is estimated that there are 8 million Generation Z'ers in the workforce. As the largest working generation in history thus far. HR managers will quickly realise that this generation have requirements that differ vastly to Millennials and other generations. Adapting to their needs to attract and retain talent will require more adaptation in policies and procedures.
Without early insight to to Generation Z values, characteristics and work ethic, recruiting this incoming batch of workers could be a headache for the HR department to accommodate to.
So, here's what you need to know.
Generation Z: Main Characteristics:
The digitalised world is their habitat
Using technology had become a necessity, and second nature, to Generation Z'ers. This is because they have grown up in an environment where technology has allowed lightning-quick global communication.
They have ambitious, but realistic, entrepreneurial goals
Generation Z has thorough plans for their future career, many of which involve being able to one day start their own company and be their own boss. Unlike Millennials, this doesn't necessarily mean they day-dream of being rich and famous. Rather, this generation makes realistic plans to secure a reasonably comfortable living for their future.
Work-life balance
Exploring their own interests, having a balanced diet and pursuing their career goals are all important to the wellbeing of a Generation Z'er. Whilst they are more than willing to work hard in the office, they also prioritise time to relax and enjoy themselves.
What about their work ethic?
A good employer matters
This is a little tricky to understand at first. It is important to understand that a good employer to Millennials and to Generation Z'ers varies a lot. Generation Z'ers prefer a boss that can offer opportunities for satisfying and challenging work, career growth, and stability in the workplace.
Unlike Millennials, "friendly" corporate culture, flexibility in work hours schedule and salary are not in Generation Z'ers top priorities. Basically, this means that the flexible hour policy and friendly attitudes towards employees will not be enough for the next generation. This work attitude may boil down to their career-oriented goals.
Generation Z'ers will value having an employer which is able to provide mentorship and continuous learning. As they also seek satisfaction from helping others and making a difference, they also expect their employer to be socially responsible, display positive attitudes and give constructive feedback towards their development.
Having a work culture with a high degree of autonomy
As Generation Z'ers value work-life balance, having a work culture that provides freedom to develop themselves both in terms of career and personal interests is very important. This includes the opportunity to step out of their comfort zones and learn something new. Employers should know this generation is not afraid of risks, particularly if it aids their professional development.
They do not feel attached to a certain job or company
According to a survey conducted by Adecco, Generation Z'ers are constantly seeking to find a job which satisfies them. This means, if a company fails to challenge them within 3 years, it is likely they would move on and seek better prospects. In order to retain talents in this generation, employers must find a way to frequently address their appetite to progress.
So, what can firms do to attract and retain Generation Z?
It's one thing to understand what the future generation of workers are like, but it's another thing to know how to accommodate to them.
One way is to use analytics to increase employee engagement. For many firms, using surveys to track engagement, attitudes towards work and general happiness is not a novel concept. However, the significance of using people analytics to attract and retain talents, and in particular Generation Z, is sometimes overlooked.
By frequently running feedback surveys, HR allows talents to voice their opinions of their work, satisfaction and attitudes towards their employer, which gives them a degree of autonomy. When a manager asks his/her employee for feedback, it builds an open culture, a stronger relationships and encourages communication.
From another perspective, surveys creates an inclusive workforce, which overall contributes to a more positive work environment. If you may recall, these are all the things which would particularly appeals to the expectations of Generation Z.
Further, through 360 Feedback, lifecycle surveys and peer evaluations, employees can get individualised reports that show their competencies and skills and empower self awareness. Analyses like Johari Windows and a spider chart (shown below) maps out their strengths, weaknesses and areas to improve.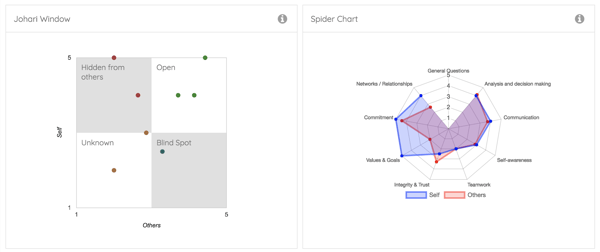 @EngageRocket 2019
Already, this system would attract talented incoming Generation Z'ers. Not only do they get the opportunity to evaluate and therefore develop themselves career-wise. What would be the cherry on top is if the employers themselves can take this individualised report and discuss how the employee can progress in the future through 1:1 Meetings.
This act of mentorship would give the impression that the employer cares about the development of their people. Again, a proactive Generation Z worker would view this as an opportunity to progress in his/her career.
So, why is this important?
Again, the issue of attracting and retaining Generation Z'ers may not be such a prevalent issue just yet. But as current Generation Z university graduates start to enter the workforce, implementing data analytics to build a challenging yet rewarding work environment may help your firm attract and retain the new generation of workers.
And who knows? Perhaps a more focused, career-driven generation would bring more creative and innovative ideas to your company. It may just turn out to be a win-win situation for everybody.