Birthdays are a big deal and it should be celebrated - even if we're working remotely. While it may feel different without any physical interactions with co-workers, it is still important to recognize every employees' special day as it can boost their morale and strengthen company culture.
From our Employee Experience Guide 2021, we learned that putting effort to make employees feel recognized is an important aspect of increasing employee engagement & employee experience. Recognition is about acknowledging the value of your employee as a person. It doesn't have to be expensive or complex with remote employees.
Here are 5 fun ways to celebrate your employees' birthday in a remote setting:
1. Virtual birthday party
It's a no-brainer to organize a virtual birthday party. Get the team together for a virtual happy hour, lunch, or just a casual chit-chat session to wish that employee a happy birthday. It's a great way to ensure the remote employee gets lots of love during their special day.
2. Send over some sweet treats
There is no sweeter gesture than sending your remote employees a sugary treat. Get a birthday cake, cookies or ice cream delivered to their doorstep. It's also a nice treat for their family members during these tough times and it demonstrates genuine care for every employee.
3. Birthday e-card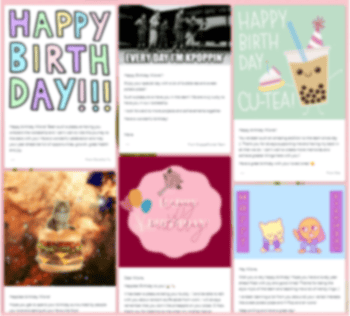 Here at EngageRocket, we use Kudoboard to compile birthday wishes from everyone (all departments included) and to send it across during the employees' birthday.
Such a gesture is simple to execute and it's also a good opportunity to show how much the organization values an employee.
4. Special shout-out via internal communication platforms
Digital platforms such as Slack, Microsoft Teams & Google Workspace have become part of our daily routine - for easy communication within the team.
There is nothing better than sending a warm birthday wish to your employee on his/her special day. This also creates a mirroring effect whereby others will send in their well wishes, spreading the positive vibes internally.
5. Give them a day off
Most of us can agree that the best way to celebrate a birthday is to provide employees with a "free" day off that they can either redeem on their actual birthday or save it for another day in that specific month. This provides an opportunity for them to do something they enjoy with their loved ones.
Even when we're apart, it's more important than ever to come together to create meaningful experiences and moments that matter. Always remember, when an employee feels recognized, it increases their company loyalty and morale, making them want to work harder and strive for the organization. Nowadays, people are looking for job fulfillment rather than a regular paycheck.