On 6 October, EngageRocket would be celebrating its 5th anniversary. Looking back at how far we've come with the relentless support from all our customers, investors, and all the amazing people we have on board - it brings us to a whole new journey of self-reflection. Building and sustaining a startup is never an easy endeavor and by now most people would've known this, but maybe some of the learnings we've had would give you a glimpse of what the past 5 years at EngageRocket have taught us.
--
Five years ago, Dorothy and I left our jobs as Regional Senior Management of a reputable global research and consulting firm to start EngageRocket.
We went from having a comfortable paycheck, a sprawling 7,500 sq ft penthouse office in the heart of the Singapore Central Business District and a stable of Fortune-500 clients across Southeast Asia to bootstrapping our way through in a small 90 sq ft rented room at Raeburn Park, fighting tooth-and-nail for every new client while figuring out that launching a tech product was a little more complicated than originally thought.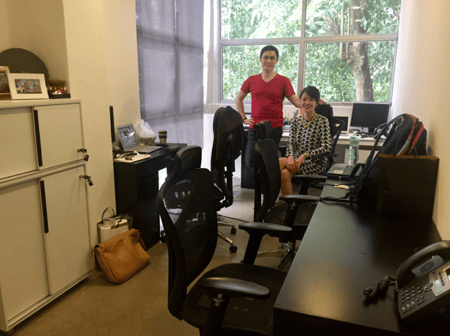 Our first office at Raeburn Park
The only thing that kept us going at that time was the belief that we could use tech and data to help companies be better places to work where work is more meaningful and human for their people while driving business outcomes like better performance and retention.
Today, EngageRocket has raised $4.5M over three rounds and is a leader in the "work tech" space helping companies improve their employee experience with advanced people analytics. Here are five lessons we have learned in building the company in the last five years:
1. Choose your co-founder(s) wisely
Choosing your co-founder(s) is as important a decision as the choice of what problem your startup is trying to solve. This process is so much more than "you're technical, I'm commercial - let's get together". Consider Tokopedia, one of five Indonesia-based unicorn startups, where the co-founders -William Tanuwijaya and Leontinus Alpha Edison- have a close working relationship beforehand. Another world-famous example is the story of Brian Acton and Jan Koum, co-founders of WhatsApp who had worked together for nearly 10 years at Yahoo prior to the messaging platform's inception.
Similarly, one thing that Dorothy and I have enjoyed is a history of strong partnership even before starting a company. Growing a regional business before together gave us insight into our common values, complementary strengths, and a foundation of trust. We imported a high degree of commitment and accountability to each other into EngageRocket, which has infused our company values from Day 1.
Second, even after this starting point, we invest heavily in ensuring that we continue to nurture this foundation. A few things we have done:
Dropping C-suite titles. Looking at our contributions over the past 5 years, we have decided that holding "CEO" and "COO" titles are quite meaningless. We have been equally accountable to ourselves, our board, and other stakeholders. We know the importance of maintaining swim lanes for decision-making clarity and speed. So far we have found this to be a unique feature of EngageRocket that optimizes decision-making, made possible by 10 years of collaboration prior.

Maintain utmost respect for each other and build a mechanism for check-ins. With 10 years of collaboration, conflicts are bound to happen, especially during uncertain times in the early days of EngageRocket, where our opinions often differed. What we have learned is to always return to our common values and never waiver on our respect for each other. When we lead with respect, we listen and seek to understand the other first and that has served us well to this day as we become leaders of teams in ensuring that all voices are heard.

Balancing our friendship outside work. We are both founders and good friends - and we've found it important to nurture both aspects of the relationship as they are mutually reinforcing. Work and personal matters are separated by platform (we chat on work matters on Slack and personal matters on WhatsApp), and we regularly show a genuine interest and concern for personal lives outside work.
2. Study and understand industry benchmarks, then forget them
To guide us in the early days, we needed what Prof Daniel Kahneman calls the "Outside View" - what do B2B SaaS companies like us consider best practice? What metrics should we be paying attention to?
Invest in "Coffee tuition". Aside from the hundreds of hours we spent researching the 'work tech' space, we also invested heavily in what we'd call "coffee tuition" - having coffee with the best and brightest minds in the space to learn from their practical experience and advice. There were no 'wasted' coffee chats as even if at that moment it seemed like we did not learn something new, that connection has proven useful at a later stage when other doors were opened. This was, and continues to be, the highest ROI learning we can find.

Continue to experiment. As we applied our learnings, we gained a deeper appreciation of the logic behind them. This allowed us to adapt and experiment beyond the textbook metrics.
To summarise - understand best practice thinking, apply and market test, and ultimately evolve your own perspective on what works best for your business.
3. Think about culture from Day 1, but prepare to let it evolve as the company evolves
Having come from a space where culture is our bread and butter as a business, we knew that we needed to create a cultural foundation that would allow the company to scale - or at least not become a barrier to growth!
Furthermore, we believe that it's important to listen to our team in building that culture, and codifying it, for culture to truly be a pillar to our ways of working rather than just a slogan.
Define the company values together, more than once. We started this process when there were just 2 other employees (and 1 intern) in the company. At that time, we agreed on five initial cultural values that mattered to the 5 of us: No bullshit, no assholes, put the customer first, believe in unicorns, and "Together, lah". Those were fundamental tenets of working in EngageRocket when our team was small, and helped to stabilise our ways of working when we had to deal with the chaos of pre-Product-Market Fit.
Earlier in 2021, when we knew we were going to scale the team, we ran a similar exercise with our team to ensure there is always an alignment to our company values. This yielded our current UNICORN values:
Unafraid

Nurturing

Innovative

Customer First

Ownership

Resolve

No Bullshit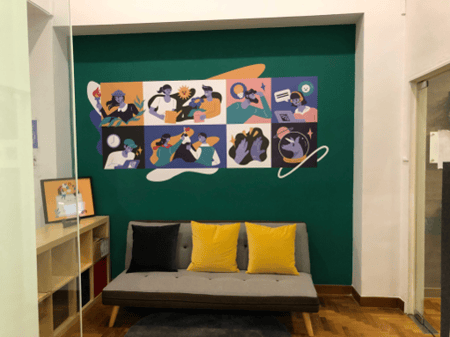 (EngageRocket's mural representing our unicorn values)
Build mechanisms to cultivate these values. We apply these religiously in hiring and onboarding new Rocketeers, and expect every Rocketeer to be a steward of the culture. The final interview round for all candidates is a culture-fit round, where the candidate will be assessed based on his or her value alignment to our company values. Even after joining EngageRocket, all Rocketeers will receive feedback on how well they embody the values on a bi-annual basis. As founders, these are pillars that we need to walk the talk for - and have empowered anyone in the company to call us out if we don't.
4. Look for more than money when seeking early-stage investors
Your early stage investors are joining your journey for the long haul. Almost as important as the choice of co-founder, the choice of these early partners shape the tenor of the company for years to come.
Seek investors you can trust. As such, their contribution to the business is far more than the cash they are injecting. This means that as founders, you need to seek alignment of values and a foundation of trust as well. Punitive term sheets, unethical or disrespectful behavior, and a reluctance to make efforts to understand your business levers are all red flags. Each individually (and definitely collectively!) are warning signs that you should seek investment elsewhere.

Seek investors who can add valuable capabilities. We have been very blessed with a record of amazing investors from our first to our most recent funding round. The operational expertise of our angel investors helped greatly in building the business, and their connections secured us meetings and valuable early clients.
Our VCs have been instrumental in linking us up with important contacts to share first-hand insights when expanding into new markets. Even at Series A, our investors Qualgro rolled up their sleeves to support our pandemic response efforts with critical manpower and leadership guidance! We are grateful and recognize that these contributions were vital in shaping the growth of EngageRocket to this stage, and will be for our growth beyond too.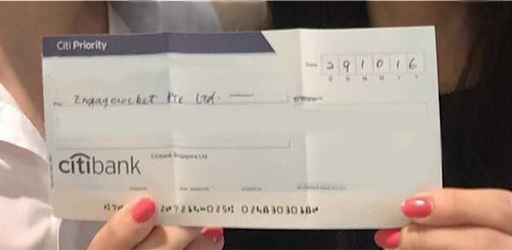 Our first cheque!
5. It's a marathon, not a sprint
This has been repeated often enough to become a cliche, but it is an important perspective to remember.
Your burnout is the last thing the company needs. As the company grows, the responsibility of the founders to our stakeholders (and each other!) increases, and the margin for error in decision-making becomes smaller. However, if you are burnt out, sleep-deprived, and micro-managing the talent you've worked hard to attract and retain, that is a recipe for disaster.
Seek mentors, and therapists if needed along the journey, and identify signs of burnout in yourself and your co-founders. Build a culture that embraces a balance of personal and professional life; make it OK to say that "I am going to prioritize my family for the next 2 hours, but I'll get to this later." It is after all, the responsibility of the founders to facilitate success in both professional and personal lives
Recognition goes a long way, and ignore the haters. For co-founders, recognize each other for a job well done, or for demonstrating great performance in an area. It's lonely at the top - it can sometimes be tricky for staff to recognize their boss even if they want to, and the founder's job can sometimes feel like a thankless one.
Finally, ignore the haters. In our very first cold pitch, a Chief HR Officer who granted us an audience made it a point to put down our professional standing and our product in front of their entire team. While certainly jarring coming from a background of high achievement, we put aside our misgivings, took it as a learning point, and worked to set up a meeting with the next prospect.
Conclusion
Even though it has been five years, looking ahead at the opportunity it feels like we're just getting started. Dorothy and I share these reflections as a way of documenting our journey so far, as a milestone to what we hope to be much greater success! We humbly believe that in this sharing, we can also touch other founders who will resonate with these and work to build a vibrant and thriving ecosystem of entrepreneurs. Please drop us a note on LinkedIn (CheeTung's profile and Dorothy's profile) if this was at all useful to you, we would love to connect!