The focus on employee engagement and happiness has been at the center for many years. And with remote work being a norm, unexpected challenges make employee virtual games engagement challenging.
Working remotely puts a strain on an employee's ability to build connections. They miss out on team building gatherings, collaboration opportunities, and those impromptu but often essential conversations you have when you're in the office from 9-5.
This is where Microsoft Teams games come into play. They are a great way to increase employee engagement, satisfaction, and loyalty. Besides, research suggests that collaborative games can significantly increase productivity in the office.
In this article, we will discuss the top virtual games to play on Microsoft Teams that offer a great framework to boost productivity and increase engagement.
Why use Microsoft Teams games to increase engagement?
90% of the employees agree that games boost their productivity at work. And why not? Often accompanied by a steaming cup of coffee or tea, these activities can provide a much-needed mental break from the daily grind while promoting healthy competition.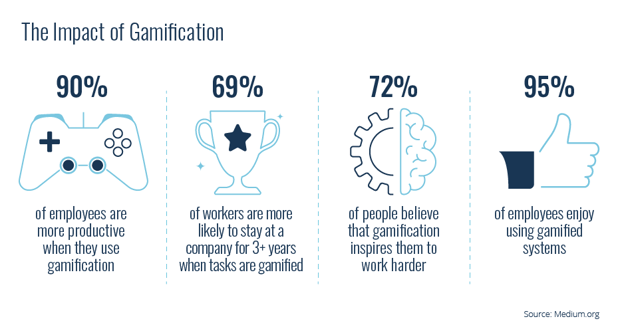 Source: Growth Engineering
A study at BYU discovered that after just 45 minutes of playing video games together, freshly formed work teams were 20% more productive on subsequent assignments. Collaborative team-building games on Teams can be a fun and effective way to establish and strengthen bonds, foster friendships, and cultivate team trust.
Here are some more benefits of incorporating collaborative games into your workplace:
Enhanced collaboration and trust

Better communication

Improved performance

Increased employee net promoter score (eNPS)

Identification of individual strengths and weaknesses

Improved interpersonal relations

Improved employee engagement
💡 Share performance feedback with the help generative AI, all within your Microsoft Teams app
Share genuine, useful performance feedback among coworkers with PerformAI, the first GPT powered performance management tool. Available on Microsoft Teams app store.
Top virtual games to play on Microsoft Teams
Microsoft Teams games are the games, competitions, and puzzles that you can play on the Microsoft Teams platform. Games like Espionage, Trivia, and Pictionary use the platform's features like video, chat, and whiteboards to engage remote teams. Besides, they also facilitate virtual team bonding during online meetings and conference calls.
Here's the list of some of the best MS Teams games for your workforce engagement:


1. Trivia
Being one of the most popular remote team-building activities, Microsoft Trivia is one of the go-to games teams can play on a virtual call. Playing trivia games inside Microsoft Teams is simple. All you have to do is integrate Trivia with Microsoft Teams and bring countless quizzes, puzzles, polls, and other online team-building games into your workplace. Trivia is a great way to shorten social distance between employees and establish connections naturally.


2. Photo Booth
It's challenging to celebrate office holiday parties and team celebrations while working remotely. Microsoft Photo Booth is an excellent way to connect as a team and celebrate the holidays, even if employees can't be together in person. You can ask team members to bring fun props and costumes to the virtual meeting and pose for a group picture with the props. You can choose different photo themes and tones and incorporate decorations and costumes.


3. Microsoft Teams Pictionary
Whether you're at a party, a family get-together, or a workplace – Pictionary is a fun and popular game that everybody loves. It is one of the best online team-building games available for free on Microsoft Teams. It is also extremely easy to play. You just need to follow the below steps:
Split everyone into 2 or more groups.

Then, you can pick a custom word of your choice or use a Pictionary Generator.

A team member then starts drawing the word.

The opposition team has 60 seconds to guess the correct word.

You can reward the team a point if they guess correctly.

Repeat the process with the other team.


4. Espionage!
Another one of the most interesting team-building games on Teams is Espionage!. It is a fun virtual team-building activity available on Microsoft Teams. The game challenges employees to cooperate by including social deduction and puzzle-solving features.
Having a spy concept, this game is 90 minutes long and is hosted by an experienced and engaging professional.


5. Scavenger Hunts
Virtual scavenger hunts in Microsoft Teams are a fun and engaging way to build team spirit and collaboration in remote work teams. They encourage players to work together and communicate effectively to solve challenges. Scavenger Hunt can be played using the bot 'Who' within Microsoft Team. 'Who' enables quick searches within organizational directories.
You can search for information within a company's directory on Microsoft Teams. Employees can use 'Who' to conduct a Scavenger Hunt to know their colleagues better. A time limit can be set, and employees can conduct fun searches to see what results pop up. Rewarding the first person or team to answer every question successfully and let the game infuse fun into their workday.


6. Two Truths and a Lie
Another fantastic game wherein each team member shares three statements about themselves. Two of these statements are true, and one is false. The other team members then have to guess which information is the lie. Two Truths and a Lie is a fun way to learn more about your team members and can be played anytime using the chat feature in Microsoft Teams.


7. Elevator Pitch
If you're looking for a fun learning session with your team, this is the game for you. Elevator Pitch is an interactive exercise ideal for sales teams to practice communication and presentation skills. It can be played on Microsoft Teams; all you have to do is choose a topic for the elevator pitch game and let the participants speak. At the end of the pitch, you can reward the best speaker and discuss what worked well and what could be improved.


8. Virtual escape room
Over 40 percent of leaders consider building relationships the most significant challenge in hybrid or remote environments. A virtual escape room is another fun game that encourages participants to navigate the obstacles together and boosts collaboration.
In this game, teams are locked in a virtual room and must solve a series of puzzles and riddles to escape. You can incorporate a mix of clues, challenges, puzzles, and visuals that help players vividly imagine running a room or situation. This is a perfect pick if you're looking to boost collaboration, communication, and teamwork.


9. War of the Wizards
If you're fond of severe world-building, storytelling, and role-playing fantasy action, then War of the Wizards is a fantastic virtual game. It is a fantasy role-playing game that can be integrated into Microsoft Teams.
The game revolves around a gang of wizards who have been at war for ages but can't recall why. Your teams will practice communication, problem-solving, and cooperation skills to make crucial decisions while in the game.


10. Charades
Charades is a classic game that can be adapted to a virtual format and played on Microsoft Teams. Herein, you can use a random word generator to allocate participants to words and subjects for the game. Once you've given each participant a term, have them act it out as best they can. However, the catch is that performers are not allowed to mouth or talk to teammates. The other team members will need to guess the word or phrase based on the actions of the person who is "it."
Foster creativity and innovation with Microsoft Teams games
Competition is a huge motivator — for both organizations and employees. And virtual games get everyone in the mood to work harder and smarter.
These are some ways that team games help organizations make their work environment better:
Promotes a collaborative and motivated work culture by emphasizing activities that bring individuals together.

Supports agile problem-solving and decision-making processes by leveraging the contributions of multiple team members.

Cultivates responsive and meaningful communication by fostering familiarity with co-workers' personalities, desires, strengths, and weaknesses.

Stimulates creativity and out-of-the-box thinking by encouraging employees to step away from their usual job setup, which revitalizes and recharges them.

Establishes an atmosphere conducive to productivity by identifying and eliminating obstacles or improving existing work methods.

Enhances employee morale by demonstrating the company's and colleagues' interest in personal growth and development, leading to increased employee retention.
Conclusion
Each of us has a competitive heart, and gamification brings out the winner in us. Microsoft Teams games can be used to immediately tell employees how they are doing and give them the auto-corrective measures to do so. PerformAI does the same by empowering managers share performance feedback instantly.
Integrate PerformAI with Microsoft Teams today to significantly enhance employee engagement, performance, and development.
💡 Share performance feedback with the help generative AI, all within your Microsoft Teams app
Share genuine, useful performance feedback among coworkers with PerformAI, the first GPT powered performance management tool. Available on Microsoft Teams app store.
FAQs
1. Can you play games with Microsoft Teams?
There are a lot of games, puzzles, and activities that can be integrated into Microsoft Teams. You can install the games from the Teams app store and start the game using the platform's capabilities like video, chat, and whiteboards to engage employees.


2. What virtual games can you play on teams?
Microsoft Teams offers a variety of virtual games to play. The examples of Microsoft Teams games are Pictionary, Trivia, Espionage!, Scavenger Hunt, and Charades. Moreover, there are a lot of puzzle games, board games, and quizzes that can be played through Teams.


3. What are the names of games played in teams?
Microsoft Teams has a number of games and apps that you can use to play games. Some of the best examples of free virtual games to play on Microsoft Teams with coworkers include Escape Room, Kahoot!, Photo Booth, Two Truth and a Lie, and Trivia.


4. Can you do Kahoot in Teams?
Yes, you can play Kahoot! in Microsoft Teams. All you need is first to create a Kahoot! game by logging in to the Kahoot! Account. Then you need to add a quiz or you can also choose a pre-made one. Once you have created the Kahoot! game, you can share the screen in a Teams meeting and have your colleagues join the game on their own devices by going to Kahoot.it and entering the game pin.