Junot Diaz, a Pulitzer Prize winning writer said, "Colleagues are a wonderful thing – but mentors, that's where the real work gets done." And Diaz is not alone in his belief. Many of the top companies in the world believe in the power of having a mentor at work and 70% of Fortune 500 companies actually have a mentoring program! Studies on these programs have shown over the years that, mentoring is indeed a powerful force at the workplace in three integral ways.
Why should organisations care?
1. Welcoming Culture

A mentoring program is a strong signal to employees that a company is invested in grooming and developing its employees. It is a hands-on demonstration that the company's commitment to learning isn't just words on a mission but an actual system that helps employees get what they want.
Think back to your first day of work, more specifically the anxieties of making mistakes and not knowing how things work in a new environment. If you were paired with a mentor right off the bat, you immediately understand that you are in a safe learning environment and that there'd always be someone more experienced you can go to for clarity and help. It is in creating a culture like that that studies have shown that mentorship reduces stress for both mentors and mentees alike.
2. Happier Employees

While the focus is often just on mentees, the fact is mentors gain just as much from the program and as a whole, everyone benefits! Based on a case study on Sun Microsystems, both mentees and mentors who took part were promoted significantly more than their peers (five times more for mentees and six times more for mentors).
More than work performance, employees also find much more satisfaction with their jobs. The same case study revealed significantly higher retention rates for both mentors (69%%) and mentees (72%). And in another 2017 study, nurses who received mentorship also enjoyed higher job satisfaction which in turn improved retention rates.
Creating the Right Mentorship Programme
It is easy to create a mentorship programme but it's much harder to create the right mentorship program. A Harvard Business Review Study of 30 professional firms found that mentoring programs often become stale and bureaucratic, defeating its initial intentions.
So here are 4 types of mentorship structure and how you can best use them:
1. Career Mentoring

This is the most straightforward structure of all. Here you pair a senior with a newcomer so that the senior will be able to onboard the newcomer and answer any questions on processes and the workplace. As simple as it sounds, you'll have to make a decision still: do you introduce a mentor from the same role/team like a senior designer or marketing manager with a junior designer or do you bring in someone from another team like an accounting manager with a junior designer?
That depends on the goals of your mentorship programme actually. If the objective is for a quicker onboarding with a focus on technical skills then pairing with a senior along the same role would naturally help. But if you are trying to create a more integrated and cross-functional company then a mentor from another team can bring in a new perspective and create stronger bonds across the company.
2. Peer Mentoring

Peer mentoring is sometimes known as a buddy programme. The perks of peer mentoring is that since both mentee and mentor are on the same level, it would be easier for them to understand each other's needs and perspectives. Having a mentor that is a peer also allows newcomers to ask more candid questions and warm up more easily to the relationship. In the case of peer mentorship, it is probably best to bring in a 'buddy' from another team to create empathy across the company. Besides, the newcomer will by default already have quite a bit of facetime with peers on the same team.
3. Job Shadowing
Job shadowing is unlike most mentoring roles in that it is not limited to newcomers only. Whereas in a standard mentoring format, the mentor and mentee might have regular sessions or informal check-ins across weeks or even months, job shadowing is shorter term but with much more face time where the mentee shadows the mentor across a few days or even for up to a week.
This gives the mentee a firsthand glimpse of the demands and expectations of the mentor's role and gives the mentee many opportunities to ask questions across the day. This could be used for newcomers to either shadow a senior in the team, or even to shadow a person from a different team each day to understand how the entire company comes together. Alternatively, this is also great for employees with an interest to switch roles. This would give them a preview and give them a chance to clear any doubts they have.
4. Reverse Mentoring

We can't deny that there is something to learn from everyone and this puts the newcomer in the shoes of the mentor. With a fresh perspective on the company and processes, a manager could learn a lot from a 'newcomer' mentor. This keeps the company leadership connected and grounded giving managers high visibility on ground level issues while allowing junior members of the team to feel connected. While this is not as common as other mentoring formats, companies that successfully do it also has the bonus of creating an environment with a flat hierarchy.
Finding the Right Pairs
Knowing what mentorship format you want is half the battle won but the biggest challenge is in pairing your mentors to mentees which according to Tammy Allen, author of Designing Workplace Mentor Programs, is the trickiest part of the process. Creating the right pairs can make or break a mentoring relationship and experience.
Some organizations make it compulsory while others run the programme on a completely voluntary basis. Some companies use randomization while others algorithms not unlike dating services that match pairs based on interests or personality types.
As mentioned above, how you pair a mentor, whether it is from within the team or another team, a senior or a peer, depends entirely on your goal. But one thing that is true of most effective programs is that participants are given some form of input or choice. If you are able to match what mentees and mentors want out of the relationship, you will then be able to create pairs that are engaged and more likely to succeed.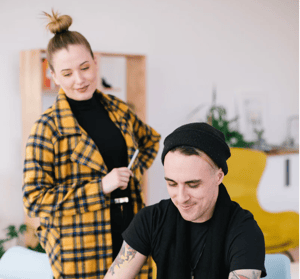 While the four types of mentorship are not exhaustive, it hopefully serves as a starting point towards crafting a suitable mentorship program for the company. After all the right match can lead to an open culture, a happier team, better learners and sometimes lifelong friendships.